Veterans Day Ceremony – 2022
VETERANS DAY
Friday, November 11, 2022
11 a.m. – 1:00 p.m.
Cupertino Veterans Memorial
10110 Parkwood Dr.
Cupertino, CA 95014
 WELCOME BACK!
Returning after a two-year absence, this year's ceremony is a tribute to Gold Star families.  We are looking forward to seeing everyone again and celebrating Veterans Day with you.

 Welcome and Recognition of Veterans
Dr. Lloyd Holmes
President of De Anza College
Remarks
Major General (ret.) Mike Myatt, USMC
Commanded the Marine 1st Infantry Division in Operation Desert Storm
 Special Commendation
 Seaman Apprentice Ginger Nelson "Doris" Jacobson, for her service in the Navy WAVES from 1943 to 1945
Many Cupertino citizens have stopped by the memorial since the initial dedication to remember all those who have made sacrifices so that we can enjoy our freedoms every day.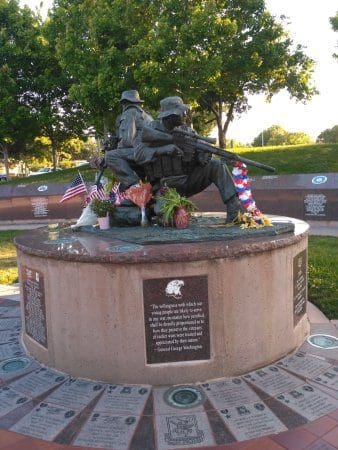 And to our veterans, first responders, and their families: Thank you for being willing to stand up for the freedoms we enjoy every day. Without your sacrifice, we would not exist as the living example of freedom for nations around the world.
Visiting the Veterans Memorial
The Guardians is a very moving image of two defenders, ever watchful, back to back. The two soldiers represented are Cupertino's own Matthew Axelson, and James Suh, two Navy SEAL's who died fighting the Taliban in Afghanistan during Operation Red Wings. "Lone Survivor", the book and movie, recalls their courage and sacrifice.
"The Guardians, defenders of our freedoms"